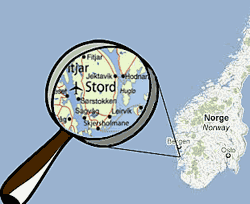 Situated on the south-west coast of Norway, the municipality of Stord covers the southern half of the island of Stord and the smaller island of Huglo.
Stord is right on the coastal highway (E 39) between Bergen and Stavanger. From the mainland you may cross to Stord by ferry from the north, and by bridge and tunnel from the south.
There are daily flights from Oslo to Stord Airport, and express boats from Bergen and Stavanger depart for Stord several times a day.
From Vikings to offshore
The history of Stord goes back a long way. Bronze Age burial grounds are found in the area, and Vikings actually had their boathouses where today's offshore rigs are being built.
Today Stord is a global provider of products and services for the oil and gas industry, and some of the largest oil-rigs in the world are built here.
The offshore industries, as well as our university college (HSH), have a strong influence on the growth and vitality of the region.
A small place that has everything
People from 80 different nations make Stord a vibrant and diverse community, and our 400 non-governmental organizations contribute to a rich cultural life.
Being a relatively small place, Stord has lots to offer and close access to practically everything. Fjords, mountains, entertainment, workplaces, schools, public services and shopping are all within short reach.
Stord is also the gateway to the Archipelago of Sunnhordland with its long tradition of recreational boating and fishing.
Stord Municipality Information Guide
The information brocure about Stord Municipality contains a lot of useful facts and information in both English and Norwegian.
Eining
Lenker
Lover
Dokumenter